On the Road with Polly: Making Hand-Crafted Whiskey at Old Home Distillers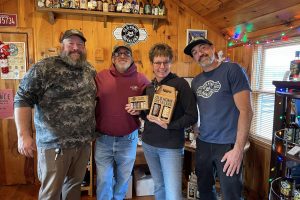 'Tis the season for…whiskey? That's right! In this edition of On the Road with Polly with brought to you by Buy Madison County, I'm heading to Old Home Distillers in Lebanon to learn about the art of crafting handmade spirits.
Founded by Jerry and Marlene Carvell in 2015, Old Home Distillers is a family-run New York farm distillery located on the historic Campbell Road farm property, a 100-year-old stable that was converted into a working craft distillery complete with a barrel warehouse and grain handling facility.
With the help of their two sons, Aaron and Adam, the Carvells produce small batches of hand-crafted spirits that are made with locally-grown ingredients before they are aged in locally-produced barrels. It doesn't get more local than that, folks!
As I walked around Old Home Distillers, I was amazed to see what exactly goes into making a super-premium spirit. I mean, the fact that it goes from corn to barrel-aged whiskey just blew my mind.
 After I got a tour of where things are made, I bottled and packaged a few drinks (there's even one I signed, but I don't think that'll go on shelves anywhere) before I got to taste a few of the final products.
From moonshine and all the different flavors of whiskey, the maple was really nice and probably my favorite out of all the ones I tried. The gin and lab sinth (similar to absinthe) will put hair on your chest — and then burn it off.
In all seriousness, though, the gin did have some nice peppery, floral, and citrusy notes and I think people who aren't usually into gin because of the piney flavor will be really surprised by the one Old Home Distillers makes.
So, if you've got a whiskey drinker or gin lover on your holiday shopping list, there's no doubt that they'll love whatever you decide to get them from Old Home Distillers. They even have holiday gift packs available!
Old Home Distillers has distribution throughout Utica, Rome, and the Syracuse area and is available in a lot of the major liquor stores, so be sure to pick some up the next time you're out shopping and Buy Madison County!