On the Road with Polly: Madison County Farm Tour at Mosher Farms in Bouckville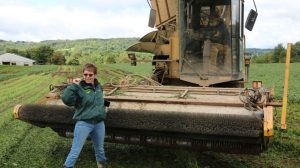 I've lived in Central New York for over a decade and I can honestly say I had no idea Libby's Cut Green Beans come from fields right here in our own backyard — until now.
In this edition of On the Road with Polly, I'm on the Madison County Farm Tour venturing out to Mosher Farms in Bouckville, a century-old farm owned by Terry & Stephanie Mosher that once focused on dairy until the owners got tired of shoveling manure and switched over to harvesting beans.
My busy day at Mosher Farm began by meeting with Corey Mosher and Jerrod Milne, who took me into the fields where they harvest thousands of tons of beans each season, which lasts from mid-July to October.
When I say busy, I mean busy. These guys work 9 to 12 hours each day and approximately six tons of their beans go into the Libby's cans you probably buy at the grocery store all the time. (By the way, you can do the math on how many cans that is. 6,000 tons equals how many 14.5 oz cans?)
After we rode out into the muddy fields in the tractor to collect from the bean harvesters, we headed back to dump all of the beans in a big semi-truck. The way the harvester works is pretty freaking cool — it grabs the beans from the plants and picks off all the leaves before shooting them into the back.
Then, I got to drive the bean harvester with Matt who has been working in the bean fields for the past three years! It was so much fun and now I can say I'm an international harvester (or at least a bean harvester).
Who knew not only that there were several bean fields in Central New York but that they all went to a plant in Seneca, New York to be canned and sent to store shelves? So the next time you grab that can of Libby's green beans, you'll know where it came from and know that you're supporting local.
After today, I can say I probably harvested enough beans to fill thousands of tables for Thanksgiving and Christmas. Oh yeah!