On the Road with Polly: Drover Hill Farm Emphasizes Pasture-Based Livestock
By Polly at BigFrog104
Megan and Rob Wilcox, owners of Drover Hill Farm in West Edmeston, really put me to work during the two hours I spent there — and for good reason!
The couple started out with a dairy farm, but now they raise free-range chickens, beef cattle, and pigs. They just added sheep, hoping to add lamb to their offerings soon.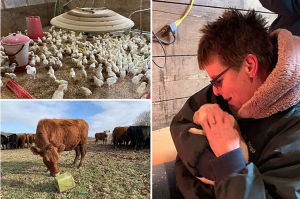 Image: Townsquare Media
Although they are literally always moving to keep up with the farm and figuratively always moving to keep up with economic and environmental changes, the family also is committed to their animals, their land, and the resulting food they sell. They want to offer the most natural, stress-free, pasture-based life possible for their livestock.
Their progress is astounding. They started with four head of beef cattle in 2014, and now they have more than 200. Similarly, they raised 20,000 chickens last summer, many of which ended up in New York City. All this happens on about 600 acres that stretch for more than a mile.
I don't know when Megan finds time to sleep, because on top of all that, she homeschools her two children, too.
As Megan said: "It takes a village to run everything on the farm." She can't do it without the help of her entire family, including her parents, Ann and Eric, who were both hard at work while I was there.
Rob's father, Dean, works on the farm, too. He was feeding the beef cattle, bringing hay on the tractor. The man has never missed a day of work. Cancer can't even keep him away. He's in stage 4 but still somehow manages to get treatment in the morning so he can be back working on the farm in the afternoon.
"We're like the Amish here, we all work together to make it happen," Megan said.
I have to mention the horses and dogs that are part of their team, too. They guard the animals to make sure they're safe and alert the family when strangers arrive. Kismet was the first to greet us. He jumped right in our car as soon as we pulled in and opened the door:
The family sells their products (pasture-raised pork, beef, poultry, dairy, eggs, salts and seasonings) in a variety of ways:
But be sure to dress warmly if you're heading that way in the winter. It's 10 degrees colder on the hill with a lot more wind. And if you're heading over to see the beef cattle, it's about 20 degrees colder. I couldn't feel my fingers or my behind after feeding time.
We took home some bacon, ground beef, a Delmonico steak, and some honey BBQ beef jerky — OK, that didn't make it home. Can't wait to try it all on a few episodes of Cooking with Polly!
I visited Drover Hill Farm as part of my Madison County Farm tour series, so I want to remind you about the importance of shopping local. The next time you're out shopping for milk, vegetables, or beef, be sure to keep an eye out for the Buy Madison County logo. When you see a product with this logo, you'll know that it was grown, produced, and raised with pride right here in Madison County.